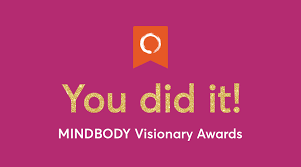 2018 Mindbody Visionary Awards
Pure Pilates Austin has been honored in the inaugural MINDBODY Visionary Awards, given for business excellence fitness, beauty and wellness industries.
"The MINDBODY Visionary Awards are our way of celebrating the businesses owners we serve, for both their success and for how they translate that into helping their communities live healthier, happier lives," said Rick Stollmeyer, MINDBODY CEO and co-founder. "Connecting the world to wellness starts in our own backyards, and our honorees deserve to be recognized for their commitment and achievements."
The MINDBODY Visionary Award is given to businesses who have an average monthly revenue in the top 30% of all MINDBODY customers between January and June 2018.