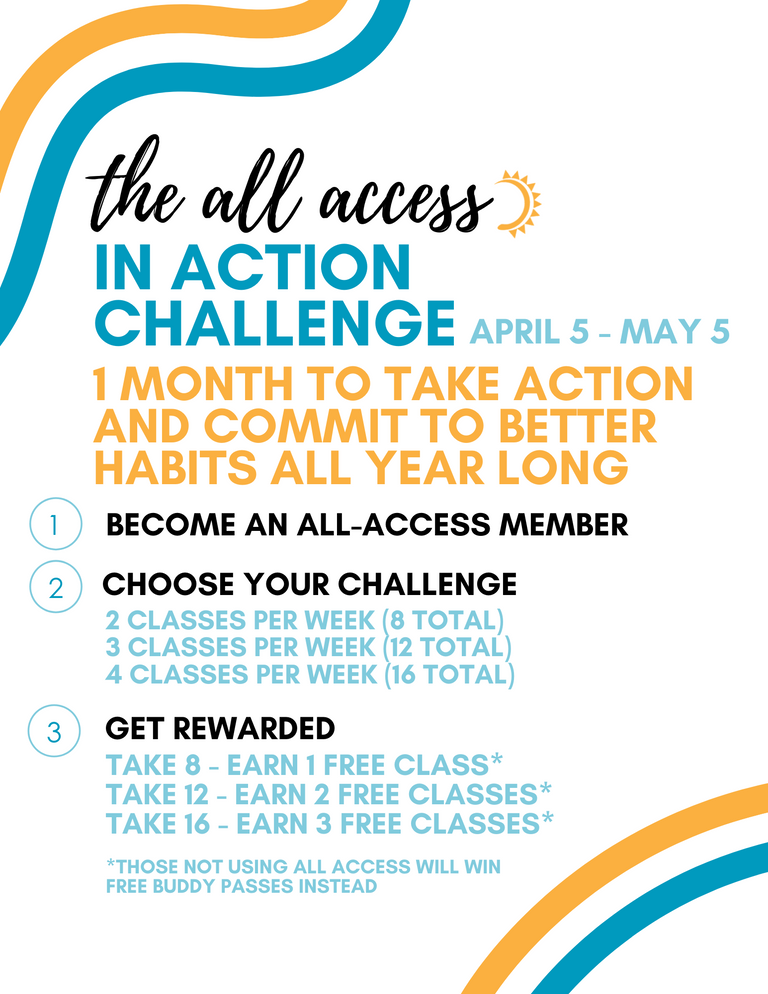 WHAT IS THE ALL ACCESS MEMBERSHIP?
Our most flexible and affordable pricing option yet!
A $30 monthly membership fee allows you to unlock $15 single sessions all month long (normally $30 each). There is no minimum or maximum number of sessions you can purchase, but ALL sessions must be used within the 30-day access window. The membership is set up on a monthly auto-pay schedule, but you can cancel at any time.
Benefits Include:
Full access to all Pure Pilates Austin classes
No additional late cancel fees (late cancel / no show classes are forfeited)
Flexibility month-to-month to take the number of classes right for you
15% off all retail purchases
Lower price point per class
Auto-renew membership fee allows continual access to classes
WHAT IS THE IN ACTION CHALLENGE?
A 30-day challenge to take action, work hard, and feel your best! Challenge yourself to take 2, 3, or 4 classes per week for a month — then keep those habits going all year long.
Here are the details:
Step 1: Join our All Access Membership
$30 monthly membership fee gives you access to $15 classes all month long (link in bio)
Step 2: Commit to better habits and choose your challenge
2 classes per week (8 total)
3 classes per week (12 total)
4 classes per week (16 total)
Step 3: Hit your goal and get rewarded
8 classes - 1 free class*
12 classes - 2 free classes*
16 classes - 3 free classes*
*with your next month of All Access
Not ready to commit to All Access? You can still play! You'll be rewarded in buddy passes instead of free classes for yourself.
Sign-up in the studio by adding your name to the poster on the wall. Let's do this!
HOW DO I SIGN UP?
Just add your name to the challenge board in studio and start tracking your progress by adding a star each time you take class.
WHAT ARE THE CHALLENGE DATES?
IS THERE A COST TO JOIN?
To get the most out of this challenge we recommend signing up for our All Access Membership (see question above for details on what this is), but there is no additional cost to participate.
Not an All Access Member? You can still participate! You will receive buddy passes instead of free classes for yourself as your prize (if you complete the challenge).
WHAT ARE THE PRIZES?
If you are an All-Access Member:
Complete 8 classes - 1 free class*
Complete 12 classes - 2 free classes*
Complete 16 classes - 3 free classes*
*with your next month of All Access
If you are not an All Access Member:
Complete 8 classes - 1 free buddy pass
Complete 12 classes - 2 free buddy passes
Complete 16 classes - 3 free buddy passes